Wednesday, 21 August 2019
Written by yurgen
Wednesday, 10 August 2011 20:20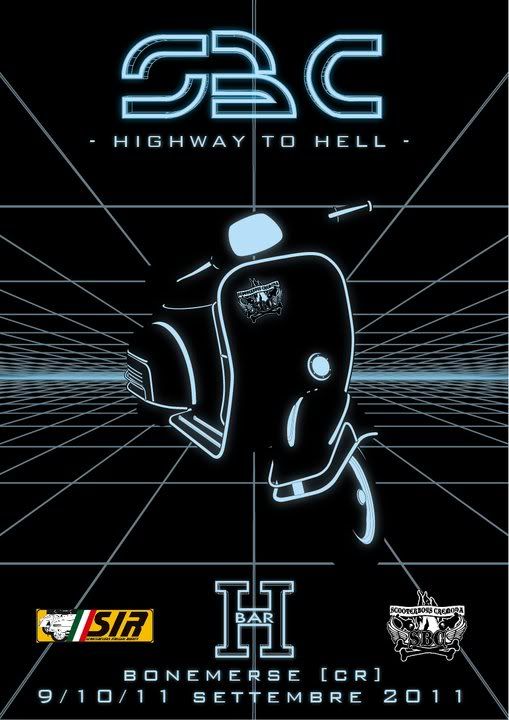 Gente ci siamo.
Ancora due o tre settimane di ferie e l'estate finisce, si torna a lavorare, e noi non vogliamo smettere di far festa e come ogni anno, arriva puntuale il raduno degli Scooterboys Cremona.
Per salutare l'estate 2 giorni, ma soprattutto 2 notti da urlo con gli SBC.
Solita location, BAR H Bonermerse, soliti fiumi di birra, carrellate di carne alla griglia, vespe e lambrette d'epoca, scooteristi da tutta l'Italia.
Per rinfrescarsi la memoria, l'anno scorso ci sono state 135 iscrizioni esclusi gli SBC, 29 scooter club presenti.
Ragazzi tenersi pronti....
Last Updated ( Saturday, 17 September 2011 20:28 )
Parla di questo articolo su:
Ultime

notizie

Gli Scooter Boys Cremona sono finalmente online! Benvenuti a tutti! E' un immenso piacere per noi salutarvi finalmente su uno spazio tutto nostro. La registrazione e' ovviamente gratuita ed immediata...

READMORE
Your are currently browsing this site with Internet Explorer 6 (IE6).
Your current web browser must be updated to version 7 of Internet Explorer (IE7) to take advantage of all of template's capabilities.
Why should I upgrade to Internet Explorer 7?
Microsoft has redesigned Internet Explorer from the ground up, with better security, new capabilities, and a whole new interface. Many changes resulted from the feedback of millions of users who tested prerelease versions of the new browser. The most compelling reason to upgrade is the improved security. The Internet of today is not the Internet of five years ago. There are dangers that simply didn't exist back in 2001, when Internet Explorer 6 was released to the world. Internet Explorer 7 makes surfing the web fundamentally safer by offering greater protection against viruses, spyware, and other online risks.
Get free downloads for Internet Explorer 7, including recommended updates as they become available. To download Internet Explorer 7 in the language of your choice, please visit the Internet Explorer 7 worldwide page.